Originally posted on FineDiners.ca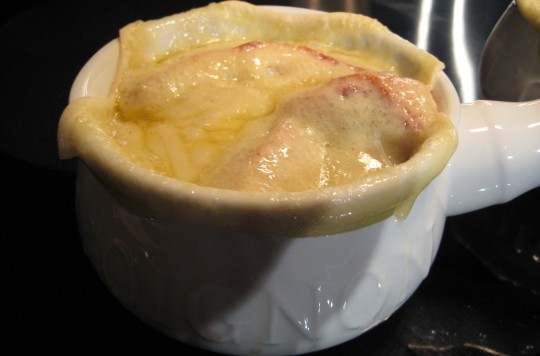 A couple nights ago I decided to try my hand at making French Onion Soup, a simple dish really, but I love it and have never had a chance to make it myself.  I had some leftover Veal Stock that FineDiner Eric had given me a while back, and I figured it would be perfect for this!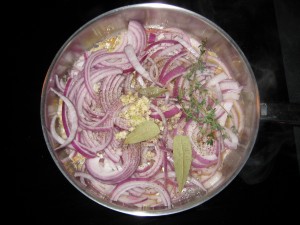 The most important thing about French Onion Soup is to get the onions nice and carmelized – that's where all the flavour is going to come from.  I used 3 Red Onions which I sliced up thin and threw in a pan with a big nub of Butter, 2 cloves of Minced Garlic, 3 Bay Leaves, and 3 sprigs of Thyme.  Season with Salt and Pepper and cook in a pan over medium heat until the onions are nice and carmelized – probably 20 minutes or so.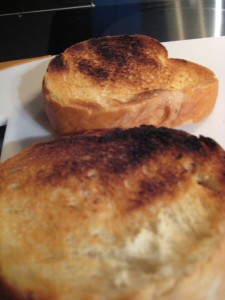 While that's cooking, you can prep your croutons – I just toasted a couple of slices of French Bread, but you could toast some baguette pieces or even regular toasted white bread.  I don't think it really matters.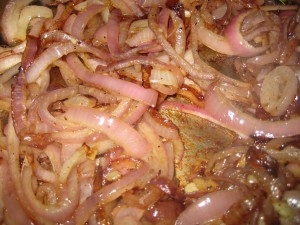 When onions are done, deglaze the pan with about a cup or so of Red Wine (or white) and let that cook until the wine is almost gone.
Go ahead and fish out the bay leaves and thyme now, and then add the stock – I added about two cups of stock, but the stuff I had was pretty concentrated so I cut it with water.  I probably ended up adding about 3-4 cups of liquid altogether.
Let that cook for about 20 minutes to a half-hour so it reduces a bit and to intensify the flavour.  I seasoned a bit more at this point – it needed a few more pinches of salt and some pepper for my taste.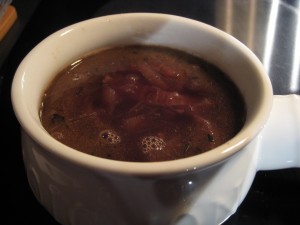 Now ladle the soup into oven safe bowls, top with croutons and cheese – I used deli-sliced Grueyere.  Some people say that swiss or provolone works well too.
Put the bowls under the broiler until the cheese is bubbling and just starting to turn brown.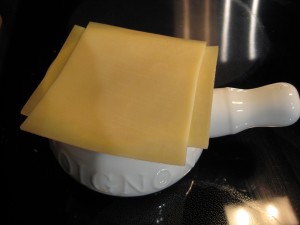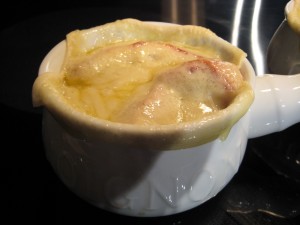 Careful!  It's hot!