Originally posted on FineDiners.ca by Eric Rochon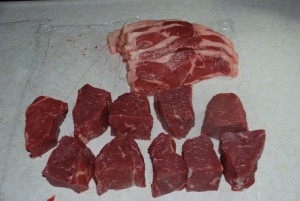 Busy night in the Kitchen – I was supposed to make Veal Stock.  When I was working for Biagio's they used to dispose of the VEAL bones, so I took some home one night and froze them.  The freezer was full so I decided to make Veal stock – to my surprise, one of the two bags I pulled from the freezer was full of Chicken carcasses.  So I ended up making chicken stock – I guess I'll post about the Veal stock another time.
Anyways, onto the butchery.  I love Costco's meats.  Today during my shopping I purchased a Strip Loin. The Costco meat section offers Canada AAA grade beef. When purchasing the strip, I always look for good marbling. It's sometime hard to see through the Cryovac, but if you look closely at the ends you can see the content. The strip is one of my favorite parts of the "beef".  It's fatty, flavourful and tender. I almost prefer this over the tenderloin. You can prepare it in several different fashions. In this article I cut NY style strip steaks and I also cut "Faux Fillets".