Originally posted on FineDiners.ca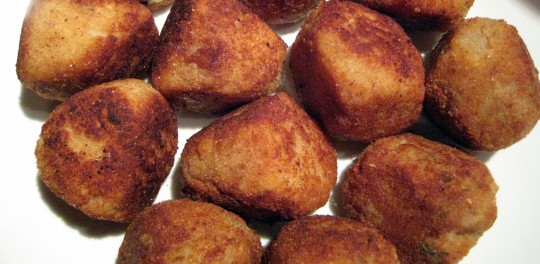 In Italy there are only two legitimate uses for yesterday's risotto:  Risotto al Salto (risotto pancakes) or Suppli di Telefono (Risotto Fritters).  I made some Mushroom Risotto last week, and surprisingly had a little leftover the next day, so I decided to try my hand at making the fritters.  Hit the jump to see how!
First add a beaten egg to the leftover risotto to help it hold together.  I also added some more fresh grated Parmesan to make them extra cheesey.
I decided to stuff the fritters with a cube of Mozzarella cheese (I would rather have used fresh Mozzarella but I didn't have any on hand).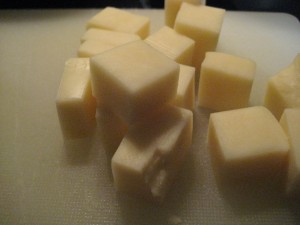 With about two tablespoons of risotto flattened in the palm of your hand,  press a cheese cube in the middle and roll the risotto into a ball around it.  Make all the balls first before moving on.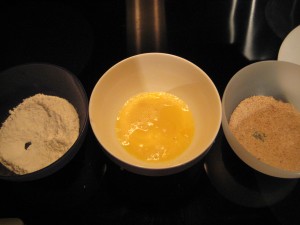 To bread the fritters, roll them first in flour until completely coated and tap off any excess flour.  Dip and roll the floured fritters in a beaten egg until coated, and then roll them in bread crumbs and place on a platter until all are finished.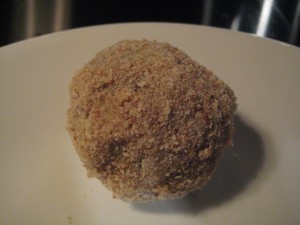 Once all are done, you can reroll them each in the bread crumbs to ensure good coverage.
Heat about 1/8 inch of olive oil over medium-high heat until hot but not smoking.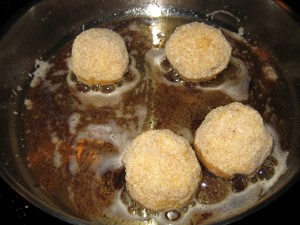 Sauté fritters, turning as necessary until all sides are golden brown and set on paper towels to drain.  The rice should be heated through and the cheese inside should be melted.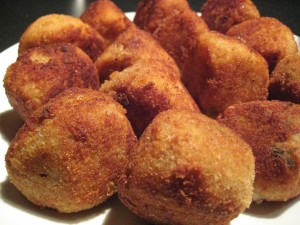 We ate them as is, but you could serve them on a plate drizzled with balsamic reduction and olive oil, or perhaps with a simple aioli.