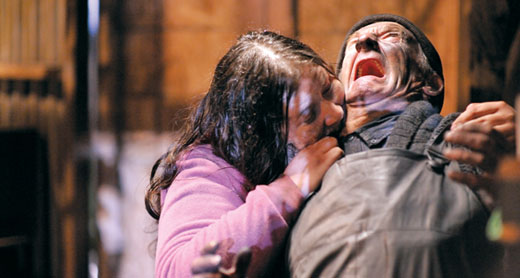 It took some effort, as the TIFF website crumbled under the demand for single tickets this morning, but we got our order in and got a decent list of films to see next weekend!  We're still going to try to fill in some gaps, but here's what our schedule looks like right now:
Thursday September 10
Midnight – Jennifer's Body
Friday September 11
9:30am – The Happiest Girl in the World
12:15pm – Huacho
3:00pm – Creation
5:45pm – Perrier's Bounty
9:00pm – Passenger Side
Midnight – Daybreakers
Saturday September 12
10:30am – The Informant!
2:15pm – All Fall Down
9:00pm – A Serious Man
Midnight – George A. Romero's Survival of the Dead
Sunday September 13
10:00am – Cracks
2:30pm – Vallhalla Rising
As expected, we didn't get a lot of first-screenings, so we'll be missing out on some of the Q&A, usually a highlight.  But really it's all about the films, so TIFF09 HERE WE COME!!
UPDATE:  And now that we're officially on our way, I'm filing this link here for later reference:  Where to get late-night drinks during TIFF – establishments that are open until 4am during the festival.
UPDATE 2: Added two more films to our list: Passenger Side and A Serious Man!