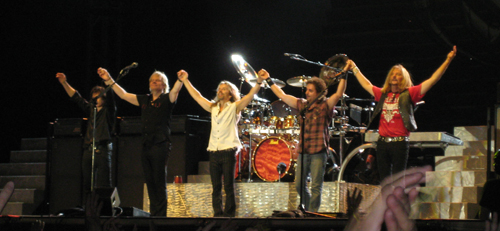 Another great day at Bluesfest!!  Can't believe it's almost over… just a few days left!
Day 9 kicked off great with Shout Out Out Out Out from Edmonton – these guys had me dancing before I even got to the festival grounds!  Those two drumkits could be heard from way up Booth Street and had my interest piqued right away!  These guys were a  total blast.
The huge disappointment of the day was Busta Rhymes, who showed up an hour late for a one hour set on a main stage!  Which of course threw the whole schedule off – he got on and played a mere 25 minutes, pushing LIVE's start time back by half an hour, forcing STYX to play over the last LIVE song, and still end up going over time at 11:00, no doubt sending those noise complainers into a tizzy!
LIVE was great from what I saw, but I was pretty determined to be up close for STYX – Gowan was my first live concert experience ever and he's singing and playing keys for them now, so I was all set for a nostalgia trip last night.  And they did not disappoint.  Good.  Solid.  Rock.  Show.
We're on Day 10, and my brain, body and spirit are getting worn down.  Sorry for the few words in this post – just take my word for it, this was one of the best days I've had at Bluesfest 2009, and that's saying a lot.
Included below is what little video I have of STYX performing Gowan's Criminal Mind.  Unfortunately, they started playing it just as I was making my way back from bathroom/beer break, so I was busy fighting my way through the crowd (and covering myself with beer in the process) for the first half of it.  WHY, OH WHY did you have to play my song at that exact moment?!
UPDATE:  Here's a far better video (but crunchier audio) than mine from someone else at the show: